We have some good news regarding the ZenFone 6 pre order situation. If you live in Europe and have an ASUS online store, go for it! You can actually get an order in now with a shipping date in about one week from now! Shipping on May 25th according to ASUS! For the rest of us?
First, here is the pricing breakdown for Europe, US, and UK:
6GB RAM / 64GB ROM
6GB RAM / 128GB ROM
8GB RAM / 256GB ROM
How does this pricing compare to the competition like say, the OnePlus 7 Pro?
6GB/128GB:

$669 USD

– 699/709€
8GB/256 GB:

$699 USD

– 749/759€
12GB/256GB:

$749 USD

– 819/829€
How does this pricing compare to the Google Pixel 3a XL?
What versions of the ZenFone 6 (ZS630KL) will be available in the US and Canada?
The 6GB/64GB and 6GB/128GB models will be available in North American markets (US and Canada)
What network bands will the North America variant of the ZenFone 6 have?
Just like previous generations of ZenFone models, expect the typical networks to be compatible. As ASUS states about network compatibility in the US, "This device is not compatible with CDMA Networks such as: Verizon, Sprint, and US Cellular." As for Canada, here is what ASUS says: "Compatible with GSM Networks including Rogers, Bell, Telus, Wind, Fido, Virgin, Koodoand cellular network providers utilizing GSM network." Here are a couple charts to sort out the US and Canada compatibility:
US:

Canada:

Need more answers to your questions?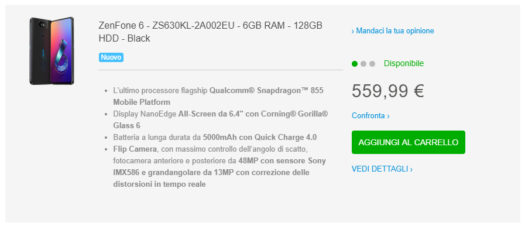 Model Numbers (Europe):
6GB / 128GB – Black : 90AI01W1-M00030
6GB / 128GB – Silver : 90AI01W2-M00040
8GB / 256GB – Black : 90AI01W1-M00060
8GB / 256GB – Silver : 90AI01W2-M00070
6GB / 64GB – Black : 90AI01W1-M00350
6GB / 64GB – Silver : 90AI01W2-M00360
Other European Countries Including UK:
6GB / 64GB – Black : ZS630KL-2A031EU
6GB / 64GB – Silver : ZS630KL-2J032EU
6GB / 128GB – Black : ZS630KL-2A002EU
6GB / 128GB – Silver : ZS630KL-2J003EU
8GB / 256GB – Black : ZS630KL-2A005EU
8GB / 256GB – Silver : ZS630KL-2J006EU
Model Numbers (US / Canada):
ZS630KL-S855-6G64G-BK
ZS630KL-S855-6G64G-SL
ZS630KL-S855-6G128G-BK
ZS630KL-S855-6G128G-SL
At the unveiling event, when it came to the price announcement? Crickets. Yep, it's true. The reality is ASUS no longer feels the need to join that race to the bottom. They did say the strategy moving forward was towards "power users" and with that quest comes a fully packed ZenFone 6.
It's too soon to say pricing in USD or CAD. The straight conversions are NOT ACCURATE so don't believe a lot of estimations that people will be throwing around. During the unveiling event, ASUS stated something along the lines of "at least we didn't increase the price". That indicates the ZenFone 6 should fall in line with the previous ZenFone 5Z pricing.
A curious point that we've noticed is that Europe is first up whereas ASUS has always been about Asia first when it comes to ZenFone launches. Imagine the miracle if North America was getting some pre order opportunities before September, October or November! The paltry release dates for North America have to end. Starting now!
Check out our dedicated ZenFone 6 page where we break down the specs, images along with Q&A.