I can honestly say that it was next to impossible for starters. I did get this case as of yesterday but it was not easy that's for sure.
I live in North America and one official Asus accessory that you cannot find (at the time of this writing) is the official Asus Zenfone 3 Deluxe clear case. For some people this may not be a big deal. Afterall there are many clear case options that cost less than $10 from places like Amazon.
There is however quite a big difference between the official Asus case and all the other 3rd party cases. The current Zenfone 3 Deluxe clear case that I'm using is completely fine with one exception.
Most every clear case covers the power and volume buttons. This ultimately makes a pleasant button into a more resistant button. Additionally, the Asus case is better fitting in the sense that it doesn't crowd the ports, sensors or camera. Having a case "cutout" that crowds a camera sensor is not a good thing and many of the 3rd party cases are very much hit and miss.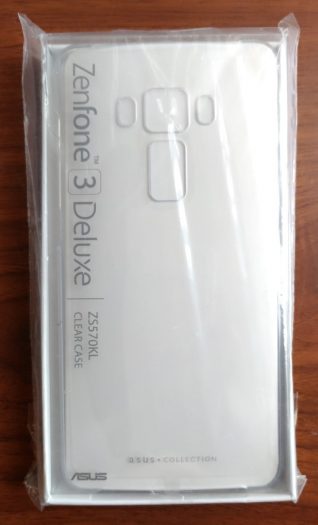 So what is the story behind this case?
I looked all over the web in my search of the official Asus Zenfone 3 Deluxe (ZS570KL) clear case. I looked high and I looked low. I only found two markets that had some for sale. These countries were Taiwan and Japan. So living in North America, there was no simple "add to cart" option to get one of these.
So what did I do? I turned to craigslist. I ran an ad in Taiwan and Japan and asked if somebody could help me out and buy the case and then ship to me. I got a LOT of responses which was shocking to be honest.
The question becomes who can you trust? Complete strangers afterall. So I used my gut instincts and chose a person based on their quick replies and sensible communication. The bottom line is that it's total blind faith. My thought process was pretty simple. This will make a good story and if I get ripped off on this first time effort, it will give me a good laugh. What are the chances that somebody would offer to help and then rip me off for a few bucks?
The person was from Japan and originally I was going to get them to buy from Amazon Japan, but I decided they better get it from the official Asus Japan online store, which they did. After a few days, they got the case.
Payment was pretty simple. I used Interact online banking and paid half up front and the rest when the person shipped the case to me. Perhaps paying the second half before receiving it wasn't such a good idea?
I was very happy and was shown a picture of the case when they got it from the Asus store. Given the price I was willing to pay, we decided to use economy shipping. Big mistake!  Check the dates below:
Date Shipped: Jan 30, 2017
Shipping Method: Economy
Date Arrived: March 21, 2017
At the time the sender shipped the case to me, they provided a tracking number and a website (Japan) to check the package. However, want to guess what happened? The entry field for the tracking number wouldn't accept the tracking number. This gave me that worried feeling. I let it go, and decided to wait. And wait I did.
At some point during early March I emailed them and said I hadn't received the package. They gave me a suggestion to try and track down a lost package. Oh please no, let's not think bad thoughts!
In the last week of waiting, I became worried. I thought a month would be likely but when it went well beyond that, I asked the sender if they could verify what the tracking info says. When I asked the person to check that tracking number on the website they referred me to, guess what? No reply. This is when you get that uneasy feeling. As in, I've been had! Why wouldn't they check the tracking number and report the status to me?
The fact is when I was getting highly worried, that's the time I got the parcel slip in my mailbox. I was thrilled of course! Now I have the case but the cheap clear case that I bought a couple months ago is still working out well. What to do? I'm going to open this official case and give you a review. That's what I'm going to do!
The moral of this story is that anything is possible. If Asus makes next to no accessories, you might still be able to find one, somewhere. Take a chance, have some fun, and whatever you do, don't use economy shipping!
Where there is a will, there is a way