There is some odd pricing going on right now with the arrival of the Zenfone 3 Zoom. Originally it was slated to have a $399 USD price but that was before the actual launch. So this week we posted about the Amazon.com listing for a price of $406 USD which is about what we expected. Now today we see a super friendly pre order price of $329 USD from B&H.
(update: product page no longer up) Shopping Link –> Shop B&H: $329 Zenfone 3 Zoom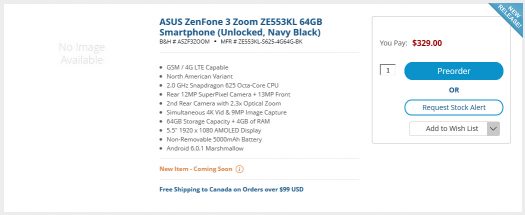 What we can say is that the B&H listing is live. What's better is that B&H ship to Canada for free (minimum $99) and they also ship internationally. This would be the North American variant of the phone so beware of network compatibility. Check the details!
With this kind of price tag, $329 USD, it's a great option. Even if you're not an avid photographer, consider the massive 5,000mAh battery onboard and the AMOLED display which is nicer than the original Zenfone 3 (ZE552KL and ZE520KL).
Model: ZE553KL-S625-4G64G-BK