Italy is now starting to sell the newest Zenfone 3 model, going by the name of Zenfone Zoom S. Originally when the branding of "Zenfone Zoom S" was discovered it was thought as being an Asian market only branding but clearly that isn't the case. It's not clear the rhyme or reason for the alternate naming of this phone. Be assured though that this S model is the same as the 3 model.
Currently we've spotted listings on the Italy Asus eshop. Other European markets is something we are checking out and will report back. The price of EUR 499 may apply to most or all of Europe but we will investigate further.
The Zenfone Zoom S features dual rear cameras, AMOLED display and a massive 5,000mAh battery. A video by Asus worth checking out shows just how long the battery lasts in comparison to perhaps the most popular mobile phone on the planet. Check out the video here.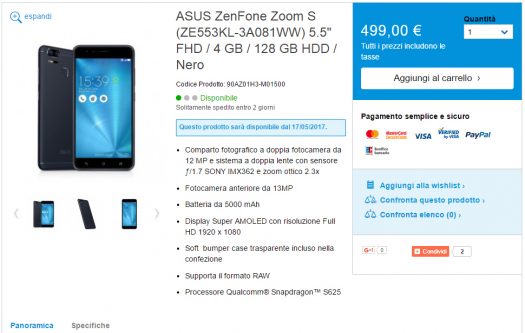 [source: Asus Italy eShop]