Here is another nice Zenfone nugget dropped by the Q1 2017 investor conference. A slide displays the Zenfone 4s logo branding alongside the other top of class Zenfone models. Thus, the Zenfone 4s will not be mid ranged at all by the looks of it.
It's not clear from the slide whether we've seen the last of the Deluxe line and whether it will be replaced by a 4s series. Obviously this is just breaking and next to no information is available at this time. We are just awaiting an English translation of the webcast to see if Asus CEO sprinkles in some juicy information along with the Zenfone 4s slide.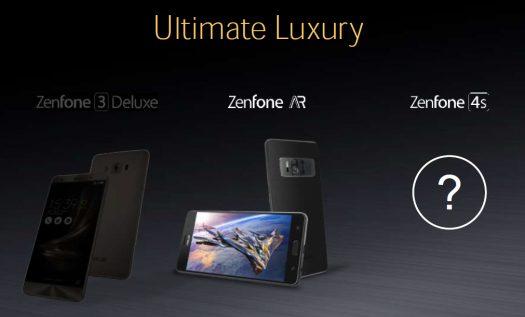 I think we can have fun with this one. How much RAM can Asus put in it? How big of a battery? And at what price?
Asus has been looking at delays for the Zenfone 4 rollout because of supply shortages. These shortage may also be affecting the next Apple iPhone so this is not just an Asus problem. The question is when will we realistically see a Zenfone 4s and will it be that model that comes out after the first batch of models. We have questions and not much more than that at this time.
Stay tuned for more details!
[source: Asus Q1 2017 Investor Conference]