We checked the Lazada Indonesia product page at precisely 11am which is the time you could buy a ZenFone Max Pro M1. Well that fun lasted a matter of seconds by our estimation. We got a "product not found" result. Then on the homepage slider this appeared: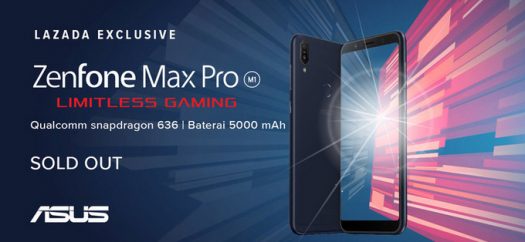 We don't know how many units were available for sale but we do know that on a number of selected days, the ZenFone Max Pro M1 is being sold at a discount during flash sales. This was one of those instances.
Here is one question that this leads us to. Is Asus going to be able to produce enough of these phones for the global demand. It's clear to us (and most other people) that this phone is going to sell like crazy. This is going to be a test for Asus and their production abilities and it's a warning to consumers. If you want one of these, then get onto pre order lists now or when they first come up. Otherwise you might potentially be waiting a while. We promise to track supplies of the ZenFone Max Pro M1 and advise you on options as we move forward.
Also keep in mind there are a few variants right now and there is also a smaller brother, the ZenFone Max M1 which offers 4000mAh battery and a 5.5-inch display which maintains a rather astonishing price point as well. However it does seem that the 6-inch ZenFone Max Pro M1 is the popular choice. So far Indonesia is the only market with a chance to buy one. India is up next and this is fair warning that it's likely to sell out quickly in that market as well. Crowd reactions from the price announcements has been indicative of the brisk sales of the ZenFone 5 series regardless of which particular model we're talking about.