This is a bit of flipping great news for ASUS as it tries to build up the ZenFone brand and gain credibility in the ultra-competitive mobile phone industry. DxOMark is the go-to authority as it pertains to mobile phone photography and it seems they rather enjoy the selfie prowess of the ZenFone 6. So much so that DxOMark gave the ZenFone 6 the highest ever overall score for selfie photography performance.
Make no mistake about it. It's the nifty ZenFone 6 camera mechanism that is responsible for this achievement. If anything, ASUS has proven just how brilliant their design is. It's a tip of the cap to the ASUS engineers and designers that brought the idea into reality.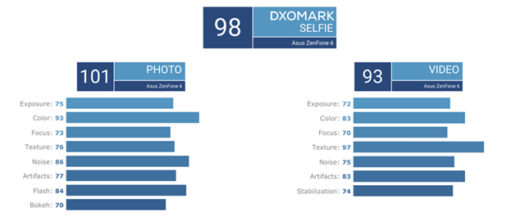 Breaking down the DxOMark scores, the ZenFone 6 was given an overall selfie score of 98 which is a combined score of both photo and video quality. DxOMark gave the ZenFone 6 a score of 101 for photo and a score of 93 for video.
That 93 score for video is very noteworthy as well. That's because it's the highest score ever achieved for selfie camera video. We've watched a few review videos and the selfie video function is very impressive. The image stabilization is so good that there is very little bounce which means people can easily create high-quality selfie videos while walking or in motion.
With their overall score of 98, ASUS beats out Samsung and their Galaxy S10 5G which managed an overall score of 97 in the selfie scoring. Other notables include the Samsung Galaxy S10 Plus which scored 96 and the Google Pixel 3 scored 93.
With the unique design of the ZenFone 6 flip camera we wonder if their selfie camera scores will ever be beaten. It's not a stretch to think that ASUS will own the selfie awards now and moving forward to the next generation ZenFone. It's unlikely to see another flip camera and with patents, maybe it's just not possible.
Consider too that competing flagship phones are expensive already and if they want to up their selfie cameras, that's going to add even more cost. Unless they can manage a design that allows the rear camera to be the selfie camera as well, ASUS just won't be beat.
This DxOMark achievement is just confirmation that ASUS really delivered something special in the ZenFone 6. The flip camera is a major feat and engineering marvel and these record scores prove as much.
Folks, the true king has arrived. Meet the undisputed selfie king, the ZenFone 6.