Teardown videos are common place these days as YouTube is the go-to place for most things technology. You may recall JerryRigEverything that we mentioned a few days ago with his ZenFone 6 durability test. Now he's at it again, though this time he's giving us a look inside the ZenFone 6 with his teardown video.
You get a sense of the excitement as JerryRigEverything starts tackling the dismantling of the ZenFone 6. Oh yes, he wants to get the that flip camera module, be assured of that. He's not the only one interested in what's going on inside the ZenFone 6 judging by the 1.6 million views and 43K likes after posting the video one week ago on June 21, 2019.
Before getting far enough into the phone to see the flip camera gear and module, you get some insight into one possible tinker that you might be interested in. That's the battery replacement situation. It looks promising! Here is the glee that JerryRigEverything shares when he gets to the battery removal:
"But then without even pulling, the battery fall away from the phone, basically all on its own. That's a pleasant flaw in the assembly process for me. Thumbs up for an accidentally too easy battery removal."
According to the JerryRigEverything teardown video, this is not a super difficult battery to remove. That means a lot of you out there might be able to slap a new battery in there as the original battery starts to lose its holding power.
ASUS has previously explained their design challenges regarding fitting a large 5,000mAh battery inside the ZenFone 6. It required them to come up with an all-new design to free up space.
As JerryRigEverything discovers, ASUS put two small motherboards on top of each other, leaving the other half of the phone for the battery. He outwardly expresses confusion about the thermal paste cooling that is implemented with these two motherboards as it seems to be one motherboard transferring heat into the other motherboard. This particular subject being a bit too high level for us to question or delve deeper into unfortunately.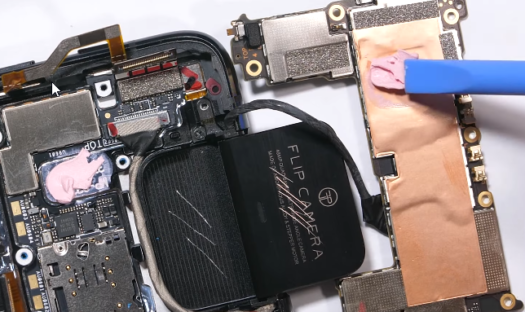 Camera gear wise, JerryRigEverything seems impressed with the bracket that has 8 different screws. He imagines that's what kept the camera so "structurally solid" during his durability test. He doesn't go super deep into the camera gear mechanism itself as he still wants the camera to function when he puts it back together. Nonetheless, you can get a good look at how ASUS put this together and judge for yourself whether it looks impressive or not.
He continues on with his breakdown, highlighting the two white water damage indicators which are found by the sim card tray and on top of the headphone jack. The USB-C charging port has a black rubber ring around it to provide some extra cushioning and a bit of water resistance. Anything to help durability of a charging port gets a big thumbs up from us.
The fact that JerryRigEverything has taken a keen interest in the phone is a real win for ASUS. It's a feather in the cap. The overwhelming number of views that both his ZenFone 6 durability and break-down videos have achieved in short order is a testament to people's interest in the phone. Views are one thing. ASUS needs these views to translate into some sales.