Update: We have breaking news here for the US/Canada market. First time ever seeing a US based retailer with IN STOCK units and shipping tomorrow (Aug 13). Full details here.
It came and it went. The long awaited pre-order phase for the ZenFone 6 in the United States is on hold at least for one retailer. The official ASUS US online store has now sold out of every ZenFone 6 model that was available less than two weeks ago.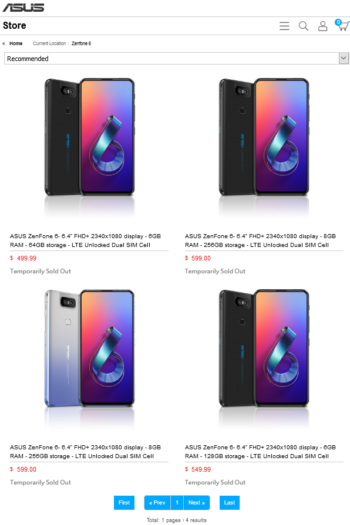 First it was the Twilight Silver selling out. Not a big surprise given its unique and appealing visuals. The Twilight Silver has also been a more difficult color to manufacture for ASUS which hasn't helped matters. Needless to say, if and when you get the chance to order one, don't delay and be quick on that purchase!
So with the US ASUS online store temporarily out of stock, there is still one. There is one retailer in the US currently offering pre-orders on the Midnight Black models and we have those details here. This particular retailer has been a bit inconsistent on their messaging on a couple different fronts but over the years they are a trusted and strong ASUS retailer. Of course 3rd party options exists as well, but that's different than dealing with a trusted big name retail brand.
First, the pre-order date was changed a couple of time leading up to the actual start date. Second, we've seen a couple different shipping dates (estimates) which have seemingly been removed at this point. Is the date buried on the page and we missed it? Or is the retailer struggling to get answers from ASUS? We tend to think the latter if we are being totally honest.
Then there is Amazon. We see a listing yes, but it's not Amazon selling it. This is highly unusual as Amazon is typically the first to be selling ASUS phones and other products. The fact Amazon isn't taking pre-orders is puzzling and a bit concerning. Most likely again it's a matter of communication or lack thereof. It would make sense that Amazon wants certainty before putting up a listing and it's likely ASUS cannot provide certainty at this point. Amazon is a retail giant and if you can't supply them enough units then they are likely to hold off.
Certainly this is a double edged sword for ASUS. Nice to have high demand for a product but that means more units required which is something that isn't a quick fix to deal with. I can see the sweat trickling down the brow of ASUS executives as they scramble. No doubt they want to keep people happy out there and with each passing day they are likely feeling more and more pressure. We certainly hope the dust settles soon and inventory catches up and other markets can get their pre-order opportunities as well.