With the limited release of the ZenFone 7, there is some good news for the upcoming ZenFone 8 launch. It's coming to India!
While the world is excited for the launch of our new smartphone, we at ASUS India have consciously decided to defer the launch till the current scenario improves. Our thoughts n prayers are with those affected with Covid #stayhomestaysafe, n emerge stronger! #IndiaFightsCOVID19

— Dinesh Sharma (@sharmadinesh) May 10, 2021

One of the most well-versed markets when it comes to technology is India. ASUS has a strong presence in that market and it was quite a disappointment for many when the ZenFone 7 didn't make it there. ASUS will be bringing the ZenFone 8 to India, but the actual launch will be coming later than the official release. The covid issue in India has resulted in ASUS delaying any sort of a launch which is a good call.
With there being two of more ZenFone 8 models, it's unclear if India will get partial availability or the entire line-up will be available. From early leaks it looks like the "ZenFone 8" will be without a flip camera which should bring down the price. This would make it an ideal candidate for many competitive markets like India.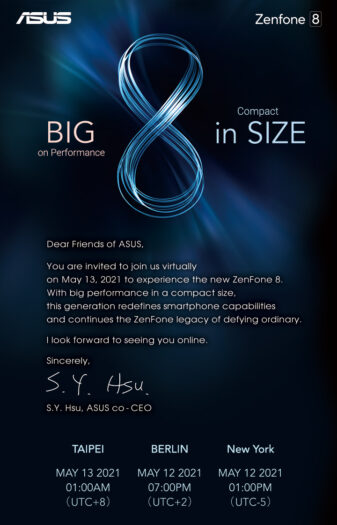 We see ASUS list New York in their launch page with the countdown timer. If ASUS is putting that time zone into the launch event marketing we sure hope there is something to that. Would they include New York yet not release the phone(s) to the US market? That would be rather cruel.
Other markets aside from just India, US and Canada missed out on the ZenFone 7 entirely. ASUS seems poised based on a number of indicators to have a more inclusive roll-out this time around. The surprise for us is the non-flip version of the ZenFone 8 which does mean extra models that might be more suited to more markets. Price is a big factor for many markets and if ASUS can hit certain price targets then they may have an option this time around.
Only a couple days to go. Official launch is May 12, 2021. There have been some rumors on pricing but nothing official. It's entirely possible the ZenFone 8 Flip, which is a new model of ZenFone 7 and ZenFone 7 Pro with the flip camera, is going to have a starting price like last year. The apparent "mini" ZenFone 8 without a flip camera could come in at a lower price but the specs seems quite substantial so there is no guarantee of a lower priced ZenFone model this year.