The Zenfone 3 line-up is diverse and covers the gamut of price ranges. At the top there is the Zenfone 3 Deluxe and at the opposite end is the Zenfone 3 Max, rounded out with a number of models that fall in between those price ranges. The Zenfone 3 Laser is a step above the Zenfone 3 Max so think of it as the second cheapest Zenfone 3 model available.
Paying top dollar for a phone and having the latest processor with top benchmark results is not a priority for everyone out there. This is the target market for the Zenfone 3 Laser. It's obvious to say, but there is some give and take when it comes to budget smartphones.
I looked at the cheaper Zenfone 3 Max initially but paying around $50 more for the Zenfone 3 Laser made more sense. After all, the Zenfone 3 Laser is packing a FHD 1920 x 1080p display which is a big selling point for me.
I didn't just get the Zenfone 3 Laser (ZC551KL) for the sake of a review. This was a $249 CAD purchase I made out of necessity. I wanted to get a second smartphone which meant price was more important than having the latest and greatest hardware. As an overall value I thought this was a great deal for an unlocked Android smartphone.
I've been using the Zenfone 3 Laser over the past couple of weeks and here are my thoughts and experiences.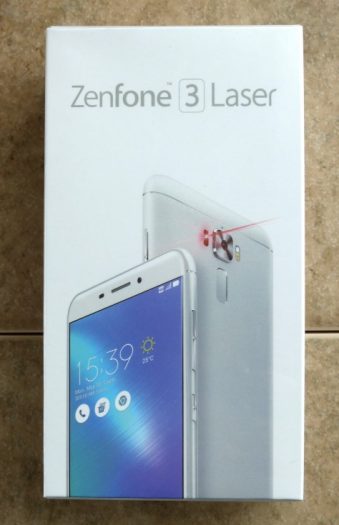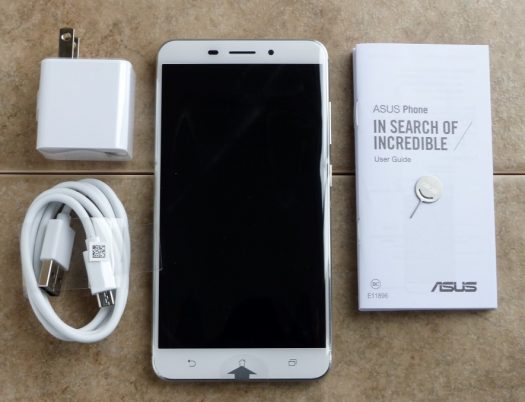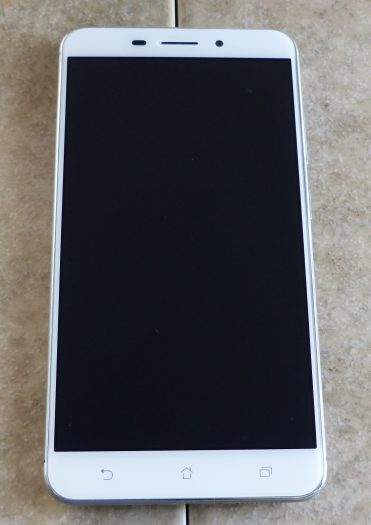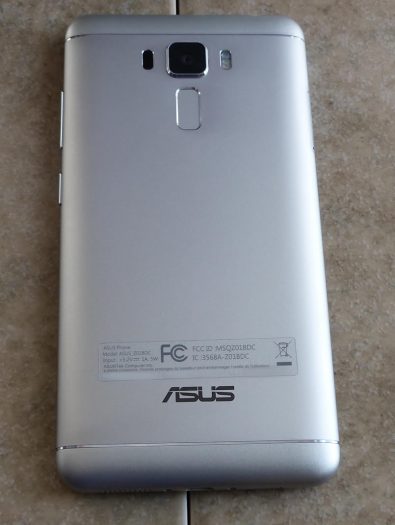 Quick Specs:
5-inch FHD (1920 x 1080) display
500 nits brightness
Snapdragon S430 @ 1.4GHz
2GB RAM
32GB Storage (expandable to another 128GB via microSD card slot)
3,000mAh battery
150g weight
149 x 76 x 7.9mm (WxDxH)
Android 6.0 (upgradeable to Android 7.0 Nougat)
Dual SIM card
13MP rear / 8MP front cameras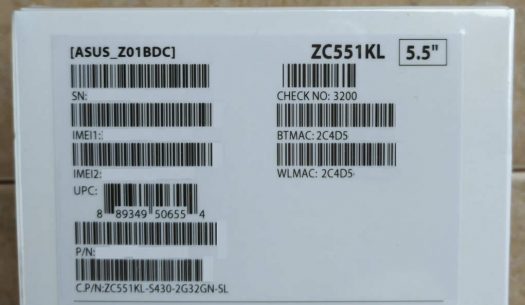 Note: see Asus.com for full details
Design and Features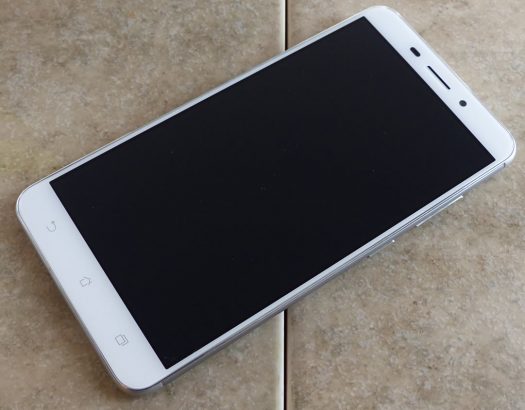 Asus has a knack for creating beautiful hardware. Even with its cheaper price point, the Zenfone 3 Laser (ZC551KL) is not a bulky or ugly looking. It's very attractive with subtle design features. There are chrome accents and comfortable to hold rounded edges. It comes in either silver or gold color and the model I'm reviewing is the silver version.
Speaking of the edges and comfortable design, Asus makes use of "hyperfine" sand blasting to polish the metal surface of the phone. I can attest to the benefits. It's a nice phone to hold. A metallic body provides a premium feel which almost seems counter intuitive to suggest.
Although the Zenfone 3 Laser is a 5.5-inch device, it feels very light in the hand. Keep in mind that the iPhone 6 Plus weighs in at 172g (6.07 oz) in comparison to the Zenfone 3 Laser's 150g (5.29 oz). The iPhone 7 Plus weighs even more than the iPhone 6 Plus! In fact the Zenfone 3 Laser is lighter than the newest Galaxy S8 and last year's Galaxy S7 models. Of course the lower specs of the Zenfone 3 Laser are part of this weight advantage but still it's an interesting tidbit.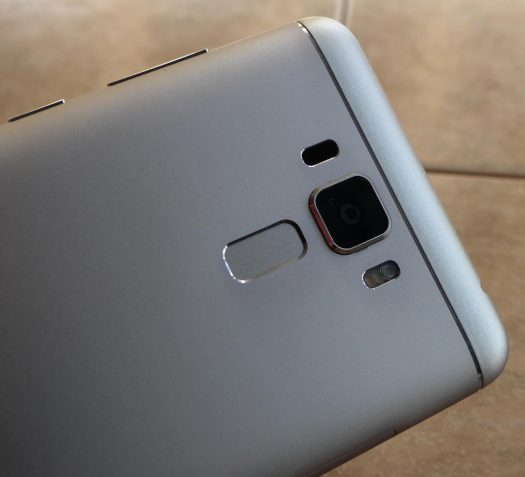 On the rear is a finger print sensor which is snappy to unlock the phone. Location wise I'm not a fan of the rear placement simply because I often have my phone sitting on a table. If it's charging for example, it's going to be laying flat. A rear facing finger print sensor means I have to pick up the device to access the finger print sensor. At that point the path of least resistance is to simply use your alternate unlock method.
The Zenfone 3 Laser is budget friendly so rather than having a USB-C port, it comes with a standard micro-USB charging port. If this means saving a few dollars it's well worth the compromise. I'm sure most of us know how to orientate the micro-USB cable when connecting the phone so the real benefits of the USB-C are just limited to faster data transfers.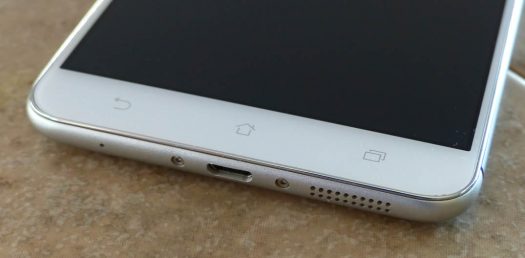 A big design breakthrough for Asus in their Zenfone 3 line-up was having invisible antenna lines. I bet some of you don't know what that really means. The antenna lines run horizontally across the back of mobile phones. This has been a necessary design from mobile phone manufacturers over the years. However with budget in mind, the Zenfone 3 Laser comes with the antenna lines on the rear of the phone. In my opinion these do not create an eye sore. These lines have a chrome look and feel and could be thought of as part of the phones design.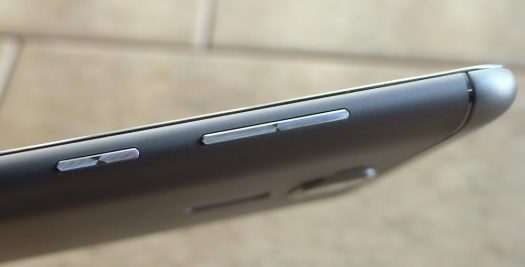 The volume rocker and power button are nice and punchy. They have good response and the engraved concentric circles make them less slippery or more tactile. When it comes to subtle design features Asus rarely misses the mark.
The Zenfone 3 Laser also features a microSD card slot for up to 128GB additional storage. If you want to store movies, videos and music, this additional storage can save a bit of hassle. The 32GB of local storage is great for this price, but if you're keeping your videos on local storage along with apps and games, it can fill up rather quickly. Even with the 32GB listed storage, it's less than that out of the box because of the pre installed apps and software.
Display
Lower resolution displays mean better battery life and a cheaper device price. However the Zenfone 3 Laser brings the cheap price without sacrificing on the display. The Zenfone 3 Laser provides 500nits brightness from its 1920 x 1080 FHD display. To me the FHD is worth the price of admission. You can enjoy those 1080p videos and movies which should be enticing for most users these days. More and more we live in an HD world.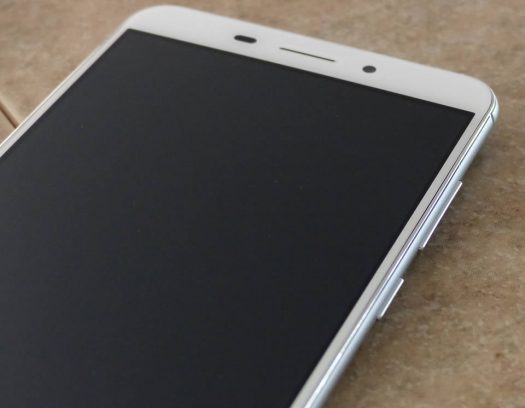 Maximum brightness is measured in nits and is something to think about. At 500nits, the Zenfone 3 Laser is lower than the 600nits of the Zenfone 3 (ZE552KL) model. In a side by side comparison there would only be a slight difference between the two. If you are hoping for an ideal mobile phone for use with bright sunlight, the Zenfone 3 Laser is going to do a decent job but it's pretty much like most other similarly priced phone on the market. Usable, but not ideal.
Audio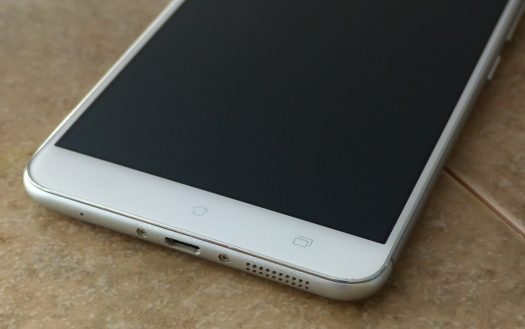 The Zenfone 3 Laser provides good audio from a single mono speaker. Asus markets this speaker as being "5-magnet for up to 40% better performance". What that means in real terms, I can't say. In reality though, the phone can handle volume at its maximum without resulting in crackling or distortion. If you have an external speaker or headset the results are excellent and volumes are punchy.

If you are in a pinch and need even more volume or clarity you can also set the audio to "outdoor mode". Keep in mind with outdoor mode that you get a volume boost but it will not always provide a better or more clear audio experience. A small issue is that it's easy to accidentally activate outdoor mode so I often needed to check my audio settings to ensure that it was disabled.
Asus has their "Audio Wizard" app which gives you some audio presets and EQ settings. This app has far more use when you are using some type of external audio hardware because the EQ and presets are far more noticeable.
Battery
There is always lots to talk about when it comes to a mobile phone battery. I'm going to break this down into various sections to make it easier. Also please appreciate the wide range of variables which can alter results such as background apps, signal strength, room temperatures, case on or off, among other factors.
Battery > Video Playback
I ran a variety of video playback tests and used to brightness settings. This should provide you with a good idea on how long you can play videos for without needing to worry about charging the phone.
I enabled airplane mode and ensured that all other apps were closed while running these tests.
When playing a 1080p movie from local storage, at 100% brightness the battery would drain by approximately 20%. In theory, that would allow you to play around four 2-hour 1080p movies before needing a charge.
When playing this same movie under the same conditions with 50% brightness, the battery would drain by approximately 16%. Theoretically that means you could play somewhere around six movies on a single charge provided you dim the brightness to 50% or less.
Streaming video via wifi is generally a bit different and more taxing on a battery but the test results didn't support this theory. I used an online streaming service similar to Netflix for these tests. So wifi was turned on but all other apps were closed during these tests.
When streaming the video at 100% brightness, the battery drained by around 22%. When streaming the video at 50% brightness, the battery drained by around 16%. So the streaming aspect of this test wasn't particularly more draining to the battery than when running a movie off of the local storage.
Battery > Gaming
I ran a variety of gaming tests under a few different settings. Largely I went either 100% brightness or 50% brightness using the "Normal" performance mode. If you are playing a graphically intensive game it may be best to use the "Performance" mode. For what I was doing the normal mode was sufficient. If you go performance mode obviously the phone will push hard, get warmer and use more battery.
Playing a variety of game, you can expect to drain about 8-10% of the battery in 30 minutes of gaming while using full 100% brightness. If you play under the same conditions but lower the brightness to 50%, you can expect the battery to drain about 6-8%. Even at 50% brightness you could lower it even more and still see the screen clearly depending on the lighting conditions.
Overall the Zenfone 3 Laser warmed up during gaming sessions but it wasn't hot. If you put a chunky case then certainly expect a warmer phone and greater battery drainage. I was quite happy with the battery life while gaming. Keep in mind that if you're using mobile data or have multiple games running in the background then your battery usage is going to be greater. There are lots of variables to deal with but hopefully my testing gives you a good perspective on what to expect.
Battery > Standby
When you phone sits idle, you hope the battery is around the same level when you pick it up. I ran a variety of standby tests over a couple of weeks. Standby battery drain is a tricky measurement. Any apps in the background can cause issues as can a weak wifi or network connection. I've done my best here to recreate common scenarios.
With the Android 7.0 Nougat update, I found the Doze feature to make a big difference. If your phone is entirely motionless the doze feature will just work. So this works well during overnight situations. If your phone is in your pocket and you're out and about, the doze function will not activate.
Asus has a handy performance app which gives you some options to save battery life. For example, you can set a time frame with a power saving setting such as super saver mode. So if you sleep from 11pm to 7am you can simply choose that time along with your preferred power saving mode.
If you close out your apps, use "Normal" performance mode with wifi ON, you will see 3-4% battery loss. If you enable airplane mode then you are going to see even less battery loss during standby. Some apps work in the background when wifi is enabled so the best option is to enable airplane mode if you really want to see minimal standby battery loss.
Battery > Battery Charge Times
There is no fancy Quick Charge technology inside the Zenfone 3 Laser. As I've experience on other devices, the Quick Charge technology is only partially useful anyways.
To fully charge the Zenfone 3 Laser from a dead battery state, you're looking at just over 3 hours. I'm sure most users don't drain their battery though. You can charge 30% of the battery in under an hour. If you're charging with the battery around 50%, it's going to take less than 1.5 hours to fully charge the battery.
Overall these charge times are respectable even though there is no Quick Charge technology on the Zenfone 3 Laser.
Cameras
It's interesting that the branding of this phone includes "laser" which refers to a super quick laser auto focus. Keep in mind that this technology is employed on the other more premium priced Zenfone 3 models. Asus has made a big push on photography in every model with the exception of the Zenfone 3 Max but let's see if the cheaper Zenfone 3 Laser can get the job done.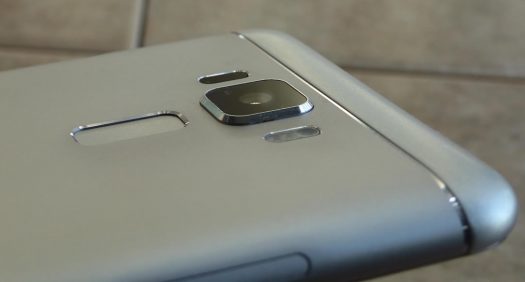 Let's talk capabilities. Video wise the Zenfone 3 Laser is capable of shooting full HD 1080p @ 30FPS video with 3-axis EIS (electronic image stabilization). The front camera is 8MP with a f/2.0 aperture and the rear camera is 13MP with a f/2.0 aperture, 5 P lens. With the "laser" branding, this means a focus time of 0.03 seconds according to Asus marketing materials. I can verify that it's very fast.
The Asus camera app offers quite a lot of flexibility for either auto settings photographers or for the more courageous manual settings photographers. The number of presets for the auto mode are varied and can help you in certain settings or help you create a particular effect. As I've mentioned in other Zenfone reviews, I quite fond of the "Depth of Field" preset which blurs out the background to create a lens blur effect similar to what's found on expensive dSLR cameras. A good number of the presets will be enjoyable for the younger users in your family as you can create some wild, wacky and funny effects as well.
I am in the process of assembling various photos and video samples taken with the Zenfone 3 Laser. These will be added in the next day or two. Overall though, I found the cameras to be a solid performer and the video recording was particularly excellent.
Photography wise, I'm a complete amateur who relies on auto modes and presets. I can say on that basis that I found the Zenfone 3 Laser camera to perform admirably in brighter outdoor environments. To be expect though, the camera would prove challenging in those less than ideal environments, namely low light. Certainly this is not an exclusive issue to the Zenfone 3 Laser as most cameras have their struggles with poorly lighted environments.
The photo below gives you an idea of how excellent the auto mode photography can be with the Zenfone 3 Laser. This is one of my favorite photos.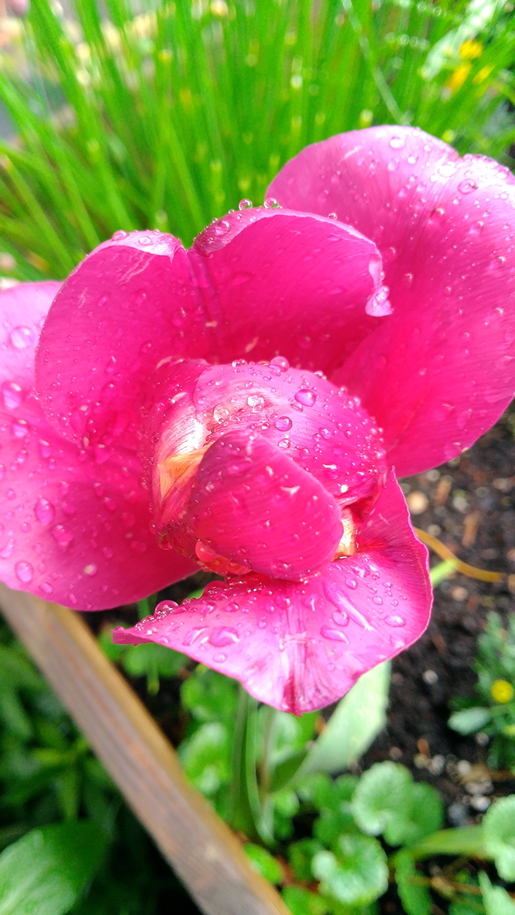 Bright outdoor conditions allow the Zenfone 3 Laser camera to work its wonders. It has an ability to catch details.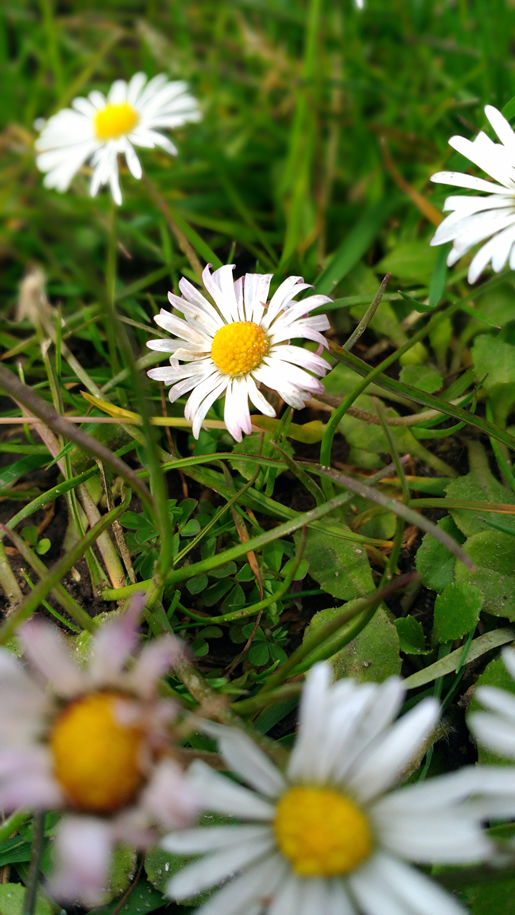 Most times the HDR mode resulted in excellent and more accurate outdoor photos. Contrast just seems better and details are more pronounced without getting washed out by too much brightness or contrast. See the sky and contrast in the photo below.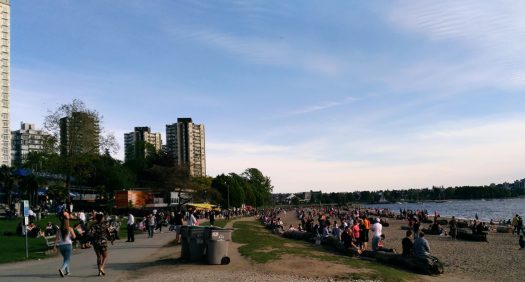 Depth of Field is my favorite Asus camera app preset. Here is an example of what's possible: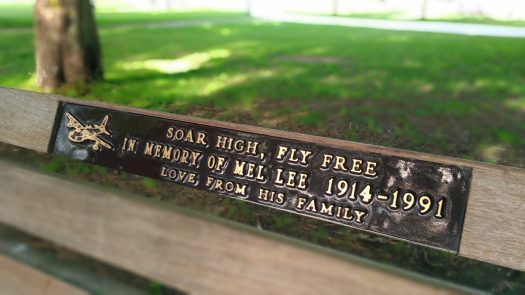 The front facing  8MP selfie camera does a good job at focusing in on faces and even offers a "beautification" mode which some of us may want or need more than others. As with the rear camera, the front facing camera will struggle with focus and proper lighting as the environment is dimmer. Outdoors? No problem. Indoor selfies can prove challenging with less light.
Operating System and ZenUI
If you have done any research online about the Zenfone 3 models, often you will hear negativity around the ZenUI software and the lack of Android updates. This negativity is largely unfounded based on my experience but let me explain.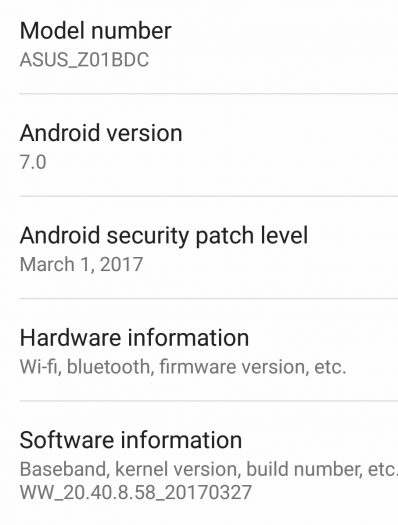 First, Asus has rolled out Android 7.0 Nougat for most of the Zenfone 3 models already. In addition, there have been frequent software updates rolled out which improve various performance aspects of the phones over the year since their release. So to me, Asus is not forgetting about or abandoning the Zenfone 3 series at all when it comes to software updates. When I first powered up the Zenfone 3 Laser I was greeted with a software notification which was the Android 7.0 Nougat update.
Regarding ZenUI (the Asus layer running on top of the Android OS) I have not run into issues. Bloatware is a common and often misused term. For the sake of experimentation, I took the default apps and settings out of the box and diabled and removed every Asus related app on the Zenfone 3 Laser. So the OS at that point was unobstructed and only consisted of the default Google apps that are pre installed on the phone. The Asus keyboard was necessary to leave installed because otherwise there is no way of typing.
So the point of that experiment was to prove that removing or disabling pre installed apps is possible and takes only a matter of minutes. I'm not suggesting that it's essential to disable or remove the Asus apps, but I am saying you have ultimate say in what apps are used. You could in theory install the Google apps to run the dialer, messaging, clock, keyboard, etc. There isn't a lockdown on the Zenfone 3 Laser operating system.
With that out of the way let's talk about what's good and what's bad about ZenUI. The level of customization is excellent and with the ZenUI online store it makes it easy to check out other customizations. Some themes are free, others cost money. You can choose icon sets, themes and wallpapers. You can mix and match an icon set with a different theme as well. When using the online store you can preview themes and icon sets to see what it looks like prior to downloading which saves some time and hassle.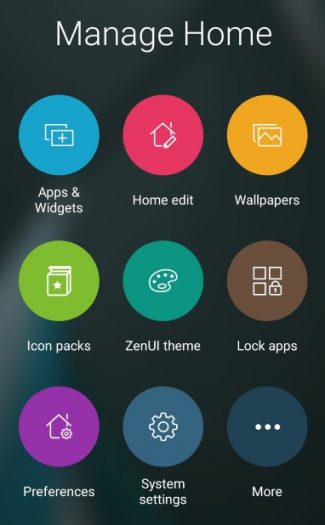 Asus also has a settings menu which is accessible with a swipe up when you're on the home screen. This gives you access to various customizations but also it gets you a way into system settings. This is a seemingly minor feature but with the phones size, it is one way you can get into system settings when you are using one hand. Of course you could move a shortcut to system settings to make it accessible on the home screen but I personally find home screen real estate to be at a premium.
The Asus ZenUI keyboard is good and bad. It's very good with its level of customization. You can truly make this a bigger size and you can also reposition it so that it's easier with one handed usage. Keep in mind that size adjustments need to be made separately for portrait and landscape modes.
The bad is in the keyboard AI. If you are not a skilled touch typist and often add a letter where it shouldn't be, the Asus keyboard is not that smart in offering the corrected word as a suggestion. Those times when you have two words stuck together, the keyboard AI often fails to identify that it's two words stuck together and offer them with a space as a suggestion. Over time this can be frustrating if you are sloppy at touch typing like I am.
ZenUI offers a lot of paths to the same destination which can add some unnecessary bulk to the software. There are perhaps too many settings in too many areas. Some settings require drilling down through menus which can lead to some confusion if you don't have a good memory.
There is a lot of flexibility and customization within ZenUI which can be a good thing and a bad thing at the same time. Themes, icon sets, wallpapers, Asus has you covered and they have convenient online stores where you can shop for new looks. Both free and paid options are available. There is a very good system in the online store that allows you to swipe the various screens of each theme and icon set so you can see what the changes will look like prior to downloading. It's an excellent preview system!
Performance and Benchmarks
The hardware inside the Zenfone 3 Laser has been chosen with budget in mind. Inside are 2GB RAM along with a Snapdragon 430 @ 1.4GHz with an Adreno 505 GPU. As a point of reference, the iPhone 6 and iPhone 6 Plus comes with 1GB RAM and 1.4GHz processor. Apple has a pretty optimized operating system to work with their hardware but this comparison should illustrate the fact that the Zenfone 3 Laser isn't exactly a slouch when it comes to hardware.
When doing benchmarks for the Zenfone 3 Laser I've decided to choose wisely on comparison devices. It's certainly not relevant to compare the Zenfone 3 Laser to the current flagship phones. So price is an important factor and also I thought it would be fun to add some flagship phones from last year. Today's phones with slower processors and hardware would be considered flagship phones sometimes as recent as twelve months ago.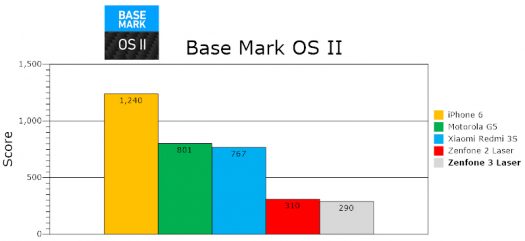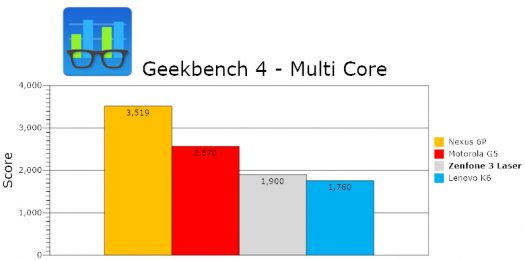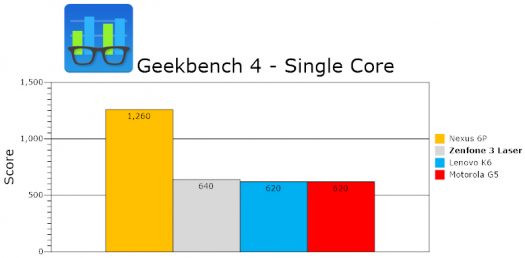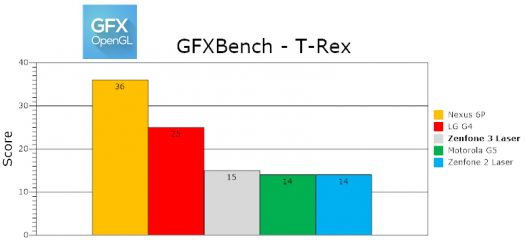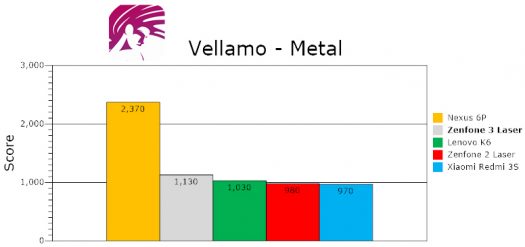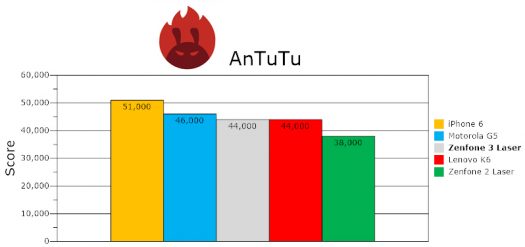 You can see from the various benchmarks that the Zenfone 3 Laser basically falls in the middle of the pack. This is ultimately as it should be. The Zenfone 3 Laser cannot bring a low price yet be near the top of benchmark results. It doesn't work this way. In real terms it's certainly fast enough for the apps and media that you will be consuming on the phone. Bars in a chart don't speak to how a device is in real terms. All the phone compared in the benchmarks above are all fully capable in their own right.
Conclusion
First and foremost the Zenfone 3 Laser (ZC551KL) is an affordable unlocked Android smartphone. It's even more affordable because these days you're going to find price drops of around $30 to $40. In Canada it's as low as $249 and in the US it's a low as $197. You will see this pricing trend continue into mid 2017.
I think of the Zenfone 3 Laser as an all around performer. It doesn't have top end hardware and it doesn't have that big battery that the budget Zenfone 3 Max series has. There are no glaring shortcomings and there are no eye bulging features or qualities. It's right there in the middle as it was meant to be.
What you do get though is an excellent FHD 1980 x 1080 resolution display along with a brilliantly light and thin build quality. The Zenfone 3 Laser offers premium looks and that counts for something. It's budget in price but not in looks.
In terms of hardware there is enough processing power and RAM to get the job done. The Zenfone 3 Laser will not struggle to play your 1080p videos or stream content online. It can also manage mobile games without issue. However if you push the hardware like leaving many apps open in the background, the performance can suffer. That's expected though. Simply close out the open apps running in the background and the performance and battery life will thank you.
I don't generally let customer reviews guide my views on a product but I found the various big retailer customer reviews to be quite telling. As a whole the reviews from customers are extremely positive. It validates my own experience with the Zenfone 3 Laser.
The price is right with the Zenfone 3 Laser and I need to emphasize that point. It's ideal for anyone who wants to get into smartphones and isn't going to be needing premium hardware performance. The freedom of having an unlocked phone means you can use it on any carrier of your choice which can also save you money. The Zenfone 3 Laser means you can enjoy Android and everything it brings without having to over spend.
Prices, Shopping, Availability:
US Link:
Canada Link: