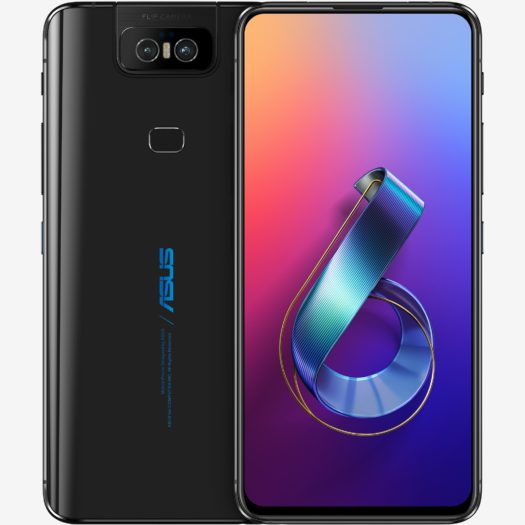 Here is your one-stop source for ZenFone 6 info! Looking to buy? Time is running out because global inventory is going fast. Check our detailed and updated post here. We have full pre-order details and shopping options for US, Canada, and international shipping in a new post here. Act fast because inventory will not be restocked. The 64GB model simply doesn't exist anywhere now.
We've been actively following the ZenFone products for years and in our opinion the ZenFone 6 is the best model ever.
Note: Currently the ZenFone 6 is in short supply. This is especially true for the Twilight Silver model. We are tracking ZenFone 6 availability better than most other websites, so hopefully you will sign-up for our newsletter or you will continue to check back with us for the latest pre-order and in-stock availability. We track all day, every day!
Price:
6GB RAM / 64GB ROM – 499 EUR – $499 USD
6GB RAM / 128GB ROM – 559 EUR – $549 USD
8GB RAM / 256GB ROM – 599 EUR – $599 USD
[see the updated ZenFone 6 price list here]
Prices in other markets are comparable to the ZenFone 5Z launch.
Quick Specs:
Notchless
Glass back
6.4-inch FHD+
2340 x 1080 resolution
600 nits IPS display
92% screen to body ratio
19.5 : 9 aspect ratio
Gorilla Glass 6 front
Gorilla Glass 3 rear
Quick Charge 4.0 charger included
5,000mAh battery
Qualcomm 855 processor
Adreno 640 GPU
6GB/64GB or 8GB/256GB configurations
8GB LPDDR4x RAM
UFS 2.1
Sony IMX586 sensor
48MP + 13MP
4K @ 60FPS
3-axis EIS
Android 9
NFC
Bluetooth 5.0
stereo speakers
headphone jack
USB Type-C
Triple SIM card slot
Dark mode
microSD card supports up to 2TB
ZenUI 6 (near stock Android)
Black or Silver color
comes with clear case, ZenEar Pro Hi-Res earphone with microphone
upgrade guarantee for Android Q to Android R
190 grams / 6.70 ounces
159.1mm x 75.44mm x 8.4 – 9.1mm
Camera Specs:
Laser autofocus
dual LED flash
Second Camera

125° ultrawide FOV – 13MP second camera
200% wider view
11mm equivalent focal length in 35mm film camera

Main Camera:

48MP main camera
IMX 586 Sony sensor
2×1 OCL PDAF
1.6 µm large effective pixel size
79° field of view
F1.79 aperture
26mm equivalent focal length in 35mm film camera
What is missing from the ZenFone 6?
The display is LCD and not AMOLED.
Where can I buy a ZenFone 6 as of mid August 2019?
You can buy or pre order right now from the Europe ASUS online stores. We have full ZenFone 6 shopping options here. The US now has limited pre-order options and we posted details in this article. Largely you will be relying on 3rd party sellers out of Asia at this point.

What is the price of the ZenFone 6 in USD?
$499 and $549.
What is the price of the ZenFone 6 in CAD?
Unknown so far.
How long does it take to charge the battery from 0 – 100%?
It takes just under 2 hours to charge the 5,000mAh battery of the ZenFone 6 from zero to full.
Does the ZenFone 6 have an RGB LED notification light?
Yes, in the top right corner is an LED notification light.
How good are the ZenFone 6 benchmark scores?
Benchmark scores are among the top of any smartphones available as of May 2019. The phones that beat the ZenFone 6 in benchmark scores are still very close and the differences would likely be indistinguishable. We have a dedicated ZenFone 6 benchmark score page here. We compare the ZenFone 6 with other top flagship smartphones.
How durable is the flip camera module?
ASUS ran excessive testing and claims it's good for 100,000 flips which amounts to 28 selfies per day, everyday for 5 years. Read our full article here about the ZenFone 6 flip camera durability.

Can I get HDMI-out through the USB-C port?
No, this is not possible. You cannot do this through software.
How well did the ZenFone 6 camera do in reviews? Specifically DxOMark scores?
The ZenFone 6 holds the record for the highest ever selfie camera score on DxOMark. Here is a comparison to the other flagship selfie cameras:
98 ASUS ZenFone 6
97 Samsung Galaxy S10 5G
96 Samsung Galaxy S10 Plus
92 Google Pixel 3
92 Samsung Galaxy Note 9
89 Huawei P30 Pro
86 OnePlus 7 Pro