Note: Looking for information about the pro model? We've moved. Check out our newly located ZenFone 7 Pro (ZS671KS) page here.
Model: ASUS_I002D
Price:
6G/128G
8G/128G

Europe € 699.00
Taiwan NT$ 23,990
Note about availability: In Europe the 6GB/128GB configuration is not available to buy. It looks like the ZenFone 7 (ZS670KS) is going to be a limited release so many countries will not have a release. We have further availability details here. So far, confirmed countries not getting the ZenFone 7 include: United States, Canada and UK. India may be added to the list as well.
The flip camera is back!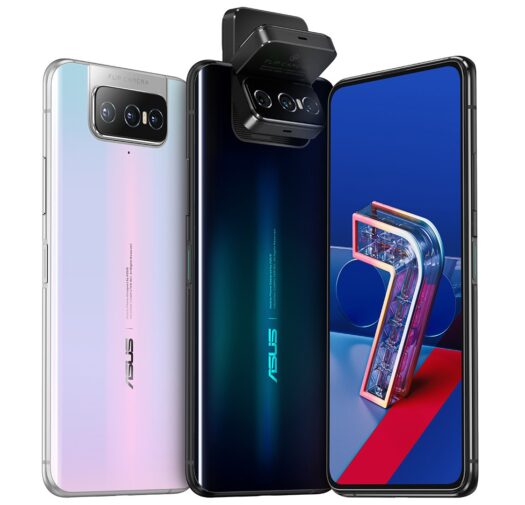 ZenFone 7 Specs Sheet: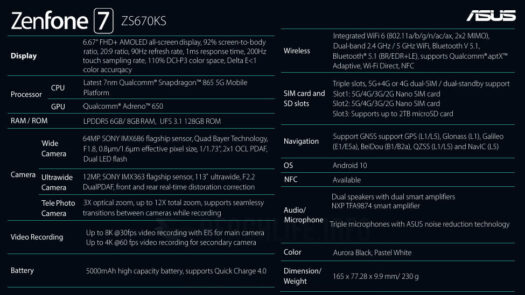 Shopping for a ZenFone 7? Here are the models:
Europe
ZenFone 7 (ZS670KS) – 6G/128G (Black)

ZS670KS-2A014EU
90AI0021-M00140

ZenFone 7 (ZS670KS) – 8G/128G (White)

ZS670KS-2B015EU
90AI0022-M00150
Asia
ZenFone 7 (ZS670KS) – 6G/128G (Black)

ZS670KS-2A001TW (Taiwan)
90AI0021-M00010

ZenFone 7 (ZS670KS) – 8G/128G (Black)

ZS670KS-2A002TW (Taiwan)
90AI0021-M00020

ZenFone 7 (ZS670KS) – 8G/128G (White)

ZS670KS-2B003TW (Taiwan)
90AI0022-M00030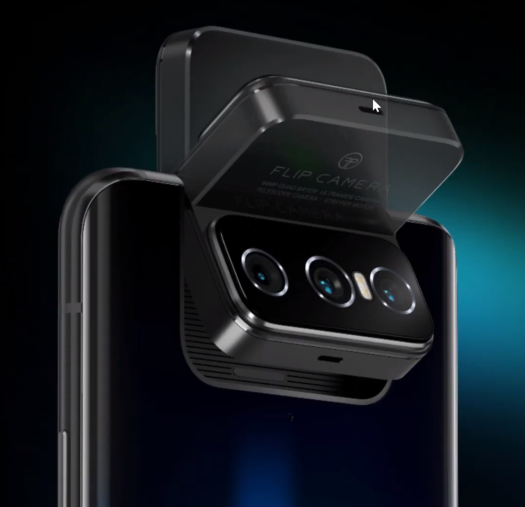 Recent News:
> Official unveil on August 26, 2020 at 2pm Taipei time.
> The ZS670KS, aka ZenFone 7, has been spotted in two different certification listings, along with the ZS671KS which is the ZenFone 7 Pro.
What about the ZenFone 7 release date? Seeing the certification at Bluetooth on August 1st is an indicator that by the end of August or early September there should be pre order availability. We can use the ASUS ROG Phone 3 listing date from Bluetooth certification and see that about one month after being spotted there, ASUS unveiled the phone.
ASUS releases their products in stages based on their best markets taking priority. When it comes to ZenFone releases, Europe and select Asian countries will get first access to buy. The US and Canada will lag behind unless ASUS is going to change up their strategy with the ZenFone 7 launch. A month after availability in Europe for North America would be much faster than previous launches. We are hopeful for you American and Canadian ZenFone 7 fans!
We do have some more information that has come out via a leak. No source listed, but it comes from a credible source. The ZenFone 7 (ZS670KS) will come with 6GB or 8GB of RAM with 128GB of storage. This may indicate the end of the 64GB option from the ZenFone series. This is not definite, as the source articles suggests, "there will be more variants equipped with different memory combinations."
The source also says the color options will be black (BK) or white (WH).
SKUs for North America (US/Canada)
We are expecting the following models, not all of which will be released to US and Canada.
ZS670KS-S865-6G64G-BK
ZS670KS-S865-6G64G-WT
ZS670KS-S865-6G128G-BK
ZS670KS-S865-6G128G-WT
ZS670KS-S865-8G128G-BK
ZS670KS-S865-8G128G-WT
ZS670KS-S865-8G256G-BK
ZS670KS-S865-8G256G-WT
We definitely have one big question when it comes to the next generation ZenFone. Will ASUS put a flip camera on the ZenFone 7? The only real recent link says that yes, there will be a flip camera module on the ZenFone 7 series. For us, this is the biggest question and will dictate whether the ZenFone 7 is a smashing global success or not. The source also suggests the flip camera will feature more lenses and sensors.
Given the amount of research and development that ASUS invested in building such a camera module mechanism and the critical acclaim that the design has attained, it doesn't make sense for ASUS to abandon it at this point. Let's not forget about the manufacturing woes of the first-generation flip camera module on the ZenFone 6. With those issues resolved and in the rear view mirror, ASUS can deliver ZenFone 7 inventory in a more timely and more accurate schedule.
When it comes to the all-display trend, having a front-facing camera that can tuck away on the rear of the phone is the best solution out there. Patents by Oppo have been filed showing a similar design feature so ASUS may have created a trend in the industry. It's hard to predict how other companies are going to put cameras and sensors in an all-screen display if they aren't going to resort to the dreaded notch. It's clear though, by 2020, the notch will be a thing of the past. It could mean increased competition for ASUS at the same time.
Many people were disappointed by the LCD display in the ZenFone 6. To raise the bar, the ZenFone 7 should include an OLED display or at least make a pricier "pro" style version that has the more premium and expensive display. Take a page out of the Apple playbook. When you are competing with flagship phones and you want to cater to the "power user", ASUS should realize OLED display matters and it would be a mistake to omit that option in the ZenFone 7.
The ZenFone 7 is likely to feature at least a 90Hz refresh rate. The ASUS ROG Phone II pushed the limited of refresh rates on mobile phones with 120Hz, but as a non-gaming option, the ZenFone 7 would be fit for 90Hz. The downside to higher refresh rates is reduced battery life, although Google has demonstrated that "adaptive" refresh rates can and does work. A higher refresh rate is certainly a game changer and something that once you've experienced, you can't go back to lesser refresh rates.
Here is an early leaked photo of the new and improved "flip camera" featuring a triple-camera: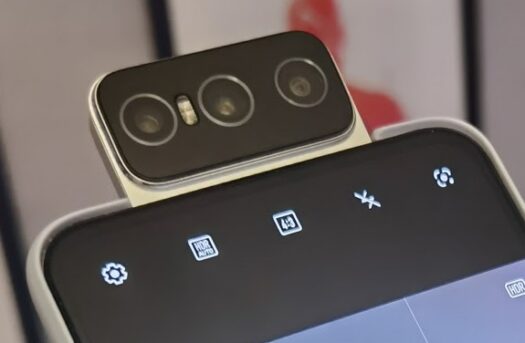 Can the ZenFone 7 go beyond the 5,000mAh sized battery found in the ZenFone 6? That's will be difficult given the increased weight and thickness of a device with a bigger battery. The ROG Phone II went with 6,000mAh but gaming is a different world and gamers are willing to accept heavier and thicker if that means longer gaming sessions. We just don't see a big bump when it comes to the ZenFone 7 battery size vs. ZenFone 6.