Note: Looking for information about the non-pro version? Our ZenFone 7 (ZS670KS) page is here.
Price:
8G/256G

Europe – € 799.00
Taiwan – NT$ 27,990
ZenFone 7 Pro (ZS671KS) Models:
ZenFone 7 Pro (ZS671KS) – 8G/256G (Black)

ZS671KS-2A016EU (Europe)
ZS671KS-2A004TW (Taiwan)

ZenFone 7 Pro (ZS671KS) – 8G/256G (White)

ZS671KS-2B005TW (Taiwan)
90AI0022-M00050
ZenFone 7 Pro Summary:
The differences between the ZenFone 7 and ZenFone 7 Pro are not substantial. The "pro" offers faster processor, more RAM and more storage. It also offers OIS (optical image stabilization) for the main and wide-angle cameras. That said, both ZenFone 7 models have AMOLED displays which is a really big deal and it's going to result in better battery life than what the ZenFone 6 offered. You get 90Hz refresh rate, QC 4.0, 5G and a much improved triple-flip camera module this time around. For us though, the AMOLED display is absolutely the best news when it comes to the ZenFone 7. Oh, also you won't see the same supply issues so buying a ZenFone 7 should be less of a burden than the ZenFone 6 was!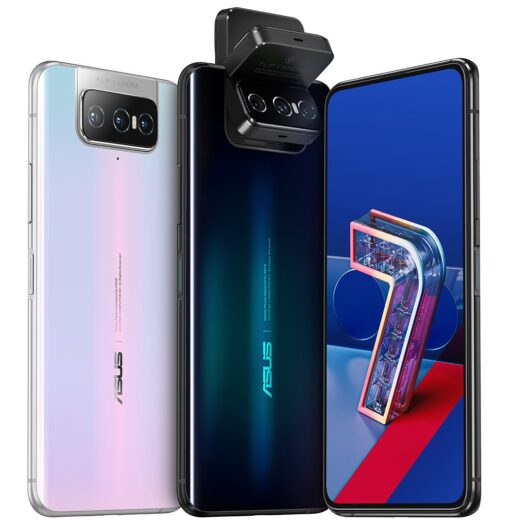 Quick look at the specs:
6.67-inch 90Hz AMOLED display
20: 9 ratio
2400 x 1080 pixels
Snapdragon 865+
8 GB LPDDR5 RAM
256 GB UFS 3.1 storage
Flip Camera (Triple Camera):

64-megapixel (f / 1.8) Sony IMX686 main sensor with optical stabilization
12-megapixel ultra-wide-angle (f / 2.2)
8 mega-pixel x3 telephoto lens with optical stabilization

5,000mAh battery
30W charger
5G
Wi-Fi 6 , Bluetooth 5.1, NFC
ZenUI 7
Android 10
Dimensions 165.08 x 77.28 x 9.6 mm
Weight 230 grams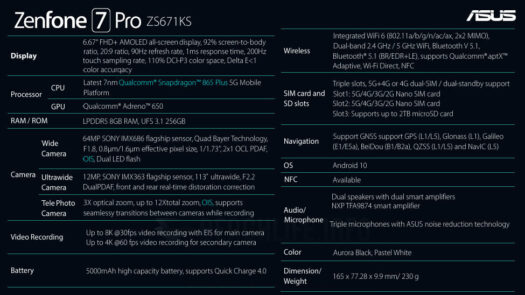 Previous Updates:
What we expect:
AMOLED display
90Hz refresh rate
Flip camera with triple cameras
No headphone jack
Snapdragon 865+
Why is AMOLED such a big deal and selling point for the ZenFone 7 Pro (ZS671KS)?
Here is a fact. People who bought the ZenFone 6 raved about the 5,000mAh battery life. It's the gift that keeps on giving! It's important to remember that the ZenFone 6 has LCD display technology. So even though the ZenFone 6 had its dark mode, the fact is, AMOLED is the display technology that can really make use of dark mode by simply not powering as many pixels. Ultimately, when you combine AMOLED with a 5,000mAh battery, you are going to have astonishing battery life provided you make use of dark mode whenever and wherever possible. These days, most of your main apps are going to feature a dark mode which is going to set you up for unbeatable battery life. It's a big selling point of the ZenFone 7 Pro (ZS671KS) and it's going to be a feature that you can appreciate each and every day that you use the phone through its lifetime.
What about the ZenFone 7 Pro official unveil?
Official details on the ZenFone 7 Pro coming August 26, 2020 at 2pm Taipei time. Lots of leaks happening these days, but not much has been learned about the "Pro" model just yet.
Just hours away, and ASUS tweets out – "Flip out your imagination!". Flip cameras are back!!! Below is the latest official teaser.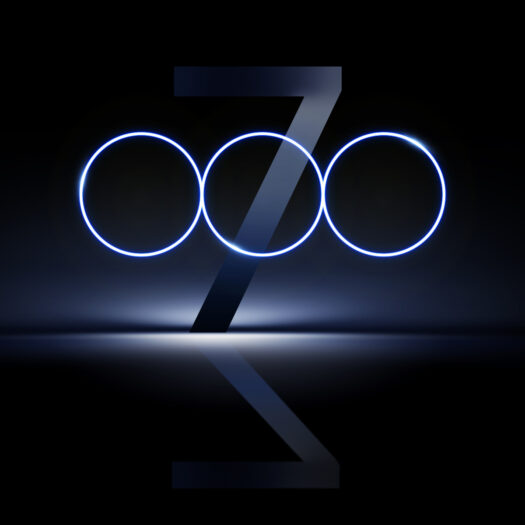 After spinning our wheels for a bit, we can conclude with confidence that the ZS671KS is in fact the ZenFone 7 Pro. You could say ASUS has flipped the script on us!
Given that the "pro" model will be expensive, we expect to see maxed out specs. These listings below are what the ROG Phone 3 are using and we expect the ZenFone 7 Pro (ZS671KS) to follow similar options. We do not expect all of these SKUs to be available in US and Canada, but these configurations should be available in some markets. In stronger markets for ASUS they may have two different configurations available for example. We will add the Euro SKUs as things move along quickly here in mid-late July into August. At this point we are not 100% certain of how ASUS plans to distinguish the Snapdragon 865 Plus. It's either going to be a "P" or an "S" so we've included both here for now.
16GB RAM / 512GB Storage
ZS671KS-S865P-16G512G-BK
ZS671KS-S865P-16G512G-WH
– or –
ZS671KS-S865S-16G512G-BK
ZS671KS-S865S-16G512G-WH
12GB RAM / 512GB Storage
ZS671KS-S865P-12G512G-BK
ZS671KS-S865P-12G512G-WH
– or –
ZS671KS-S865S-12G512G-BK
ZS671KS-S865S-12G512G-WH
8GB RAM / 256GB Storage
ZS671KS-S865P-8G256G-BK
ZS671KS-S865P-8G256G-WH
– or –
ZS671KS-S865S-8G256G-BK
ZS671KS-S865S-8G256G-WH
Our expectation and hope for the ZF7 Pro is that it comes with an AMOLED display vs. the typical LCD display that ASUS has been using for their ZenFone flagship releases. Consider an evolving aspect of "dark mode" when it relates to AMOLED displays and saving battery life. That 5,000mAh battery inside the ZenFone 7 Pro should see extraordinary battery life provided users make use of dark mode. An incredible battery life is about to become even that much better!
Leaked images of ZenFone 7 Case:
ZenFone 7 Pro (ZS671KS) Pro News Updates:
July 19, 2020
Information found that confirms two different ZenFone 7 models, one with the faster Snapdragon 865 Plus processor. Says to us that indeed the ZenFone 7 Pro is coming soon! With the ROG Phone 3 official launch on July 22, it means only days before ASUS is comfortable teasing the ZenFone 7. Likely not before the ROG Phone 3 unveil because why would they want to distract their launch event with talk of another phone?
July 14, 2020
Breaking news here. The ZenFone 7 Pro is in fact the ZS670KS model. Details are still emerging, but this information backs up what had been the biggest leak thus far regarding the ASUS ZenFone 7 series.
The pro model will feature the Snapdragon 865+ and we are certain of this. Beyond that information, it would be pure speculation.
90AI0020-R00020
Stay tuned as news is still breaking!