Update October 15: Absolutely the lowest price we've ever seen on eBay for the 6GB/128GB for $499 USD. Grab one quick because we see prices changing often so this may not last long! Click here to see the listing on eBay
!
Canada's inventory has all but dried up and the big box retailers have still not had listings up! There was a handful of proper North American models in-stock, but those quickly sold by 3rd party sellers and now they are asking around $1,500 CAD laughing out loud. See Canada specific details here.
US customers only, but in-stock units! 6GB/128GB ($549) in Midnight Black and 6GB/64GB ($499) shipping now. See below in the links section.
ASUS US online store has in-stock units but only ships to US based addresses.
Can you believe the date and the fact many countries still don't have availability? Brazil is Oct 21 and Indonesia is by the end of the year. No other release dates that we've found yet. Rumors are that the Philippines and other countries may be missed all together!

The $899 USD ROG Phone 2 is available now (options for Canada and International as well) and we have full details here.
A few Europe ASUS online stores have the limited edition ZenFone 6 Edition 30 which is priced at 799,00 €.
ASUS UK online store is now sold out but they are taking pre-orders once again. We have other active links for UK (see link section below) that may be of interest.
If you are outside of the current ZenFone 6 stocked countries, you can look at international options here. If you are outside of the US and don't want to deal with 3rd party sellers, check that linked article out. Ordering from the one US retailer (who ship internationally) may be a decent option for those of you from Australia and other countries.

ASUS has officially disclosed why the ZenFone 6 production has been slow, but according to ASUS the issue is resolved now. There must have been other issues because other countries have been slow to get their inventory. ASUS continues to say very little on the inventory woes but we hope to see good news soon. Yes, it's something that we keep saying far too often.

Since launch, we have been painfully tracking various pre-order opportunities across many markets and many retailers. If you hear something, please let us know via email. We post information as we get it. If you want availability updates emailed to you, please sign-up for our newsletter here. Remember to check your junk/trash folder though as sometimes newsletter emails can get missed and filtered as spam. If you are wondering why the delays for buying a ZenFone 6, we discuss the situation here.

Buy Now Links:
US retailer with in-stock, shipping now! > US only – 6GB/64GB ($499) and 6GB/128GB ($549) in Midnight Black
Link #2 > $499 – 6GB RAM – 128GB Storage – Silver or Black – eBay – Free shipping
Link #3 > $600 – 8GB RAM – 256GB Storage – Black or Silver – eBay – Free expedited shipping
Cellular Band (3G): WCDMA B1 / B2 / B3 / B4 / B5 / B6 / B8 / B19
Cellular Band (LTE): LTE B1~B5/B7/B8/B18/B19/B26/B28/B38/B39/B41/B66
Pre Order & Buy Now Links:

UK (Amazon.co.uk): In Stock – £589.99 – 6GB/128GB – £689.99 8GB/256GB – Black or Silver

Germany (Amazon.de):  559 € – 6GB/128GB – Twilight Silver – 3rd Party Seller – Click Here

France (Amazon.fr): 682.90 € – 8GB/256GB – Black

Italy (Amazon.it): Overpriced 3rd Party Sellers Currently
UK + Europe (AT, HR, CZ, FR, DE, HU, PL, RO, SK, SI) – Available From Alza.co.uk – All Models – Click Here
ASUS Online Stores Stock update October 10: Largely across Europe, the 6GB/64GB is not available. The 8GB/256GB is available in Midnight Black and 6GB/128GB is available in either Midnight Black or Twilight Silver. We are monitoring these ASUS online store inventory levels and update whenever possible.

Misc Availability:
Most countries that do not have pre-order information or availability yet are delayed due to stock shortages. The situation is improving as of mid-August.
India has the following configurations in Midnight Black: 6GB/64GB, 6GB/128GB, 8GB/256GB.
Hong Kong has stock of all models in Midnight Black. Twilight Silver is delayed until mid-August. 6GB/128GB, 8GB/256GB (source: official ASUS Hong Kong online store)
Sweden has in-stock ZenFone 6 units at various retailers. Inet.se shows 126GB model in stock.
Italy being the initial launch country has various retailers selling the ZenFone 6.
Europe countries still have the best availability as of late August but still do not have the 8GB/256GB models available.
Note: We do not show ads on our website. These shopping links will provide a small commission to us, which is our only means of monetization on our website. If you appreciate our website content and articles, please use our shopping links. Thanks for your consideration.
If you live in Europe and have an ASUS online store, it's worth checking their stock on a regular basis. The in-stock status has been fluctuating over the past couple of weeks. Not a lot of units but they do show up and sell out quickly.
Here is the pricing breakdown for Europe, Taiwan, US, and UK:
6GB RAM / 64GB ROM

499 EUR

$499 USD


$799 CAD

5 299,00 SEK
₹31,999
2 199,00 zł
159 990,00 Ft
12 990,00 Kč
3.999,00 DKK

6GB RAM / 128GB ROM

559 EUR

$549 USD


£499.99

NT$ 17,990
₹34,999
HK$4,998
5 799,00 SEK
2 399,00 zł
189 990,00 Ft
14 490,00 Kč
4.399,00 DKK

8GB RAM / 256GB ROM

599 EUR

£599.99

$599 USD

NT$ 20,990
HK$5,798
₹39,999
6 299,00 SEK
2 599,00 zł
207 990,00 Ft
15 990,00 Kč
4.699,00 DKK

12GB RAM / 512GB ROM (ZenFone 6 Edition 30)

NT$ 27,990 (55% more expensive than 6GB/128GB Taiwan version price)
866 EUR (estimate only)
$850 USD (estimate only)
£774.98 (estimate only)
Where can I buy the Twilight Silver color version of the ZenFone 6?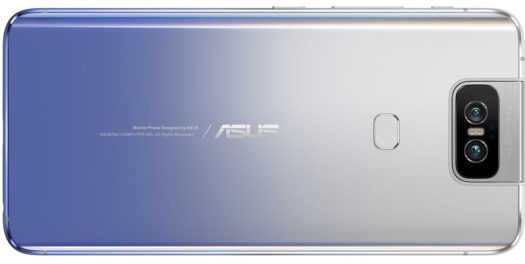 Twilight Silver is now starting to show up at various retailers. If you want this color, be fast during pre-order opportunities. Only a limited number will be made available to pre-order. In the US for example, the Twilight Silver sold out during the pre-order phase quite quickly. The production of Twilight Silver takes more time than the Midnight Black. Expect stock to show up soon, expect limited stock and fast sell-outs. We recommend you act quickly and order right away when the chance comes.
How does this pricing compare to the competition like say, the OnePlus 7 Pro?
6GB/128GB:

$669 USD

– 699/709€
8GB/256 GB:

$699 USD

– 749/759€
12GB/256GB:

$749 USD

– 819/829€
How does this pricing compare to the Google Pixel 3a XL?
What versions of the ZenFone 6 (ZS630KL) will be available in the US and Canada?
The 6GB/64GB, 6GB/128GB, 8GB/256GB models will be available in North American markets (US and Canada)
What is this newly announced ZenFone 6 Edition 30? Where can I buy it and when will it be available?
The ZenFone 6 Edition 30 is a variant of the ZenFone 6 that ASUS announced as part of their 30-year anniversary. This model has 12GB of RAM, 256GB storage, a 30-month warranty, and a differently designed rear. Only 3,000 units will be produced. No pricing or availability has been announced so far.
What network bands will the North America variant of the ZenFone 6 have?
Just like previous generations of ZenFone models, expect the typical networks to be compatible. As ASUS states about network compatibility in the US, "This device is not compatible with CDMA Networks such as: Verizon, Sprint, and US Cellular." As for Canada, here is what ASUS says: "Compatible with GSM Networks including Rogers, Bell, Telus, Wind, Fido, Virgin, Koodo and cellular network providers utilizing GSM network." Here are a couple charts to sort out the US and Canada compatibility:
US:

Canada:

Need more answers to your questions? Check our dedicated ZenFone 6 page here.
Continue reading "How to pre order and buy a ZenFone 6 (2019) ZS630KL" »