Since around the launch of the ZenFone 2, ASUS has taken harsh criticism of their ZenUI and the number of pre-installed apps. The complaints from users and prospective ZenFone owners peaked around the ZenFone 3 generation. Too many pre-install apps brings on the label of "bloatware" which brings about negativity and stigma for an otherwise stellar product line.
Well that was then, this is now. With each new generation, ASUS has been trimming the pre-installed app fat to a point now where the new ZenUI on the ZenFone 6 is as close to stock Android as you can get. It seems like ASUS has been listening to the complaints after all.
A bigger selling point for the ZenFone 6 would be to have stock Android, but for whatever reason, Android phone manufacturers do not want to do it. Stock Android is pretty much exclusive to Google products with a few exceptions of course. For top-end flagship smartphones, you're going to be faced with a company's version of Android whether you like it or not.
So what does the new ZenUI 6 do better? According to ASUS there is a lot to discuss in that regard.
Let's first talk pre-installed apps. ASUS says that they reduced the number of pre-installed apps by 43-percent compared way back to ZenFone 2. Here are the apps pre-installed on the ZenFone 6:
Launcher
Safeguard
Gallery
File Manager
Weather
Game Genie
Camera
Clock
Settings
Calculator
Phone
Contacts
Audio Wizard
Data Transfer
Sound Recorder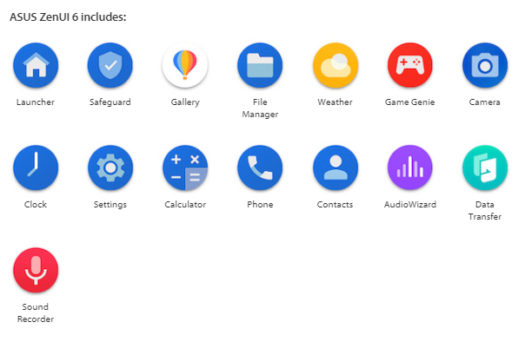 So looking at that list, there is nothing outrageous. At least half are legitimate and useful no matter your love of stock Android. Personally I could do without weather, contacts and safeguard but most others are solid apps in their own right. Google's contacts, photos and clock apps are my preferred ones and they can be easily added to the system. I've dabbled with installing an older version of the Google dialer vs. the ASUS phone app, but I've since given up on changing this out because of sketchy performance.
We haven't gotten our hands on the ZenFone 6 yet, but ASUS has put out a few claims about the new ZenUI 6.
First and foremost, ASUS claims the ZenUI 6 is simple, clean and easy to use. I will say that in previous ZenUI versions, there was sometimes and extraordinary amount of drilling down into settings. A lot of clutter and redundancy hampered previous ZenFone generations and ASUS has apparently addressed these types of complaints.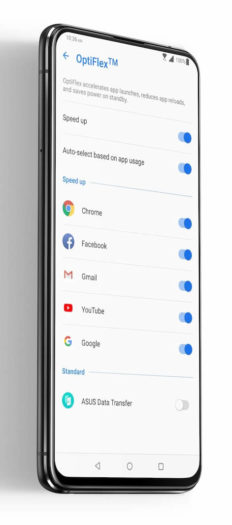 A new feature of ZenUI 6 is "OptiFlex" which ASUS claims is "all about the speed". OptiFlex accelerates app launches, reduces app reloads and saves power on standby. ASUS shows in demo's that you can select certain apps like Chrome, Facebook. Gmail, YouTube and Google to "speed up". Given how much time most of us rely on those apps, this could be a very cool feature but wait for some reviews first.
Not so much new to ZenUI 6, but possibly improved, is the AI Boost. This means when gaming, the ZenFone 6 will reach maximum potential. Based on the benchmark test results, clearly the AI Boost works! Gamers take note. It's unclear to us right now if a user must manually switch to AI Boost mode or if it's automatic.
Rounding out the ZenUI 6 features:
ASUS claims ZenUI 6 is the smoothest ZenUI ever.
"Smart Volume" adapts the initial volume of ringtone, media (music/video) and third-party VoIP call to a volume appropriate to the ambient noise level. If it's noisy around the phone, the ZenFone will increase volume and when in quiet environments the ZenFone will decrease volume.
Improved one-handed functionality by adjusting the position of on-screen controls.
Dark Mode – a system wide, instant dark mode is built into ZenUI 6 which will ease stress on your eyes when using the ZenFone 6 in low-light conditions.
Double tap to wake up the screen.
Smart Key on the ZenFone 6 integrates ZenUI 6 allowing you to customize the button's functionality. The Smart Key is customizable and lets you perform multiple functions based on how you press it (press once, press twice, press and hold).