We just watched the first Comptex 2016 trailer which features the Zenfone 3 line-up. Within that video was something very interesting. It's subtle. At first watch we thought something, but then thought nothing of it. Upon further review however, it does appear that 5.5-inch models are not going to be the smallest offerings from Asus.
How does a 5.2-inch phone work for you? Take a look at our findings and you can decide for yourself whether we are correct or are just talking nonsense.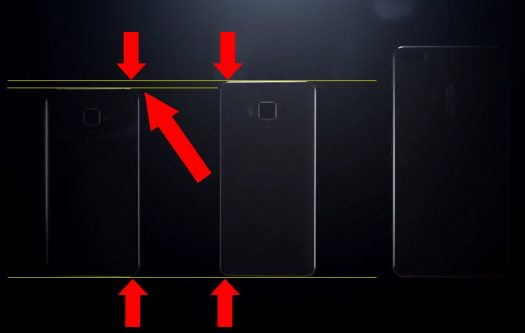 When you consider that the teaser video shows three different Zenfones, you can see how they all line-up. The first one in the line-up clearly is slightly smaller. This is why we are suggesting it's likely 5.2-inch which is a common size in mobile phones. It's likely to be less wide also, which can be ideal for smaller hands. With the naming schemes that Asus relies on, we may very well be looking at a ZE520KL Zenfone 3 model.
Also let's look at the width. The 5.5-inch Zenfone 3 is above the green line, and the smaller 5.2-inch Zenfone 3 is below the green divider line. The arrow indicates the width difference. We admit we might be off by a pixel or two, but we are confident that the evidence here suggests quite clearly it's a smaller Zenfone 3 in width as well.