[Update: You can now buy the ZenFone 6 Edition 30 with global shipping. Full details here.]
Surprise! ASUS has more tricks up its sleeve for ZenFone fans. A new limited-edition ZenFone 6 variant named "ZenFone 6 Edition 30" has just been unveiled at Computex 2019. If you need more RAM and storage in your life then this is the phone for you.
Computex has always been a big show for ASUS. Their biggest products unveils happen each year at Computex and this year, ASUS is celebrating their 30th anniversary. As part of that celebration, a few limited-edition products were announced including this rather robust ZenFone 6 Edition 30.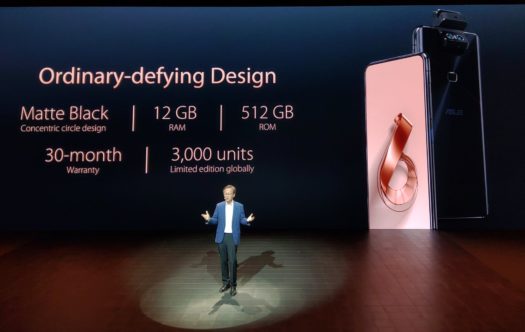 If you liked the original ZenFone 6 then have no fear. ASUS didn't make big changes to this special limited-edition.
This new version has a slightly different look. The special design features the "iconic Zen-inspired concentric-circle patterning" that become an ASUS signature of sorts on the rear of the phone. Along with the concentric-circle design, you also get a swank "embossed" (Star Trekish) 30th anniversary logo on the rear. The color is called "matte black". These are rather subtle design changes but elegance has been taken up a notch (no pun intended).
The ZenFone 6 Edition 30 features an embarrassment of riches when it comes to RAM and storage. You will get 12GB of RAM and 512GB of storage which is not available in any other ZenFone 6 variant. The Zenfone 6 Edition 30 also comes with a whopping 30-month warranty which is far greater than the industry typical 12-month warranty.
No other differences have been mentioned at this point between the standard ZenFone 6 and this new anniversary edition.
Does this special limited-edition tickle your fancy? If it does then you better start saving so you're ready when pre orders begin. ASUS has said there are only going to be 3,000 units sold. Availability has not be announced but we will update with the details as they become available.