You've likely read the spec sheet and know that the ZenFone 6 features Gorilla Glass screen protection. You have Gorilla Glass 6 protecting the front display and Gorilla Glass 3 protecting the rear of the phone. You would assume that your display is safe but unfortunately we're going to steer you in a different direction. A screen protector is a necessary evil to protect your ZenFone 6 display regardless of the promises that Gorilla Glass makes.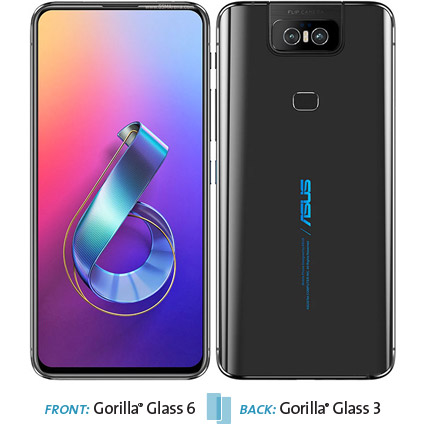 Sure, Gorilla Glass will save your screen from scratching when you accidentally gouge your phone with your sharpest key or scrape it with the pointed blade of a hunting knife. Maybe you've seen the videos or demonstrations already. Impressive right? Well, what the marketing materials don't tell you is that Gorilla Glass cannot protect your display from grit.
Be assured that grit is everywhere—in your pocket, in a purse, in a bag, on a table or on your hand. No matter how careful you are, grit is going to be a real and constant threat to your pristine display.
Some of the scratches from grit can be superficial and may not be visible when you turn your phone on. It's risky to assume annoying deep scratches won't happen. Grit can happen anywhere, anytime. If you ever plan on selling your phone, be assured those scratches are going to make prospective buyers think twice as well.
Now that we've made our case for getting a screen protector, hopefully you are onboard.
The difficulty of course is deciding what type of screen protection to get and what brands are trustworthy. We can appreciate that the ZenFone accessory market is lacking in a big way and selection is limited to 3rd party products from sketchy brands with poor customer reviews. We can help you through our personal experience with various ZenFone accessories.
Let's get one thing out of the way—the clear choice in terms of screen protection is tempered glass. Aside from being easy to apply, in the event of a drop or ding, the tempered glass is the layer that will crack or scratch, leaving your original display in mint condition. A good tempered glass protector will not detract from the display and it won't have bubbles, wrinkles or blemishes. Your display will remain pristine, but with a safety layer in place.
We have one key piece of advice for you—don't delay in buying a tempered glass screen protector. Since you are most likely pre ordering a ZenFone 6, we strongly advise you order a screen protector to have it on-hand when the phone arrives at your door. Why do we say this?
Check out this must-read: Don't unbox your ZenFone 6 until you do this! Think of this as the next step. We will tell you what tempered glass screen protector to buy and give you the key steps in an easy, hassle free application guide.