This news is just breaking. Apparently in Q2 Asus is rolling out Android 7.0 Nougat to all their Zenfone 3 models, with the exception of the Zenfone 3 Max which will wait until Q3. This update should happen between April and June.
We are updating and seeking original sources of this information. Apparently this information comes courtesy of an Asus press release which at this point we cannot source.
Update: We see on notebookcheck.com a more detailed or legitimate source. They have an image listing the dates which appears to be from this mystery Asus press release. From what we can see, this is sourced from Asus Germany. This means too, that there are some models not listed. As in, the Zenfone 3 Ultra is not listed but because it's a premium model, it's going to be lumped into the Q2 2017 models.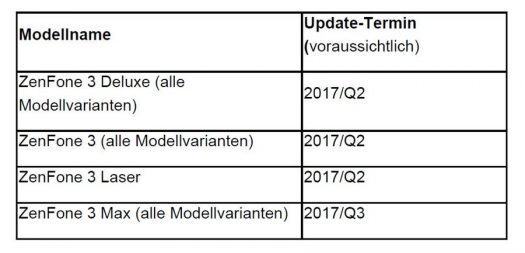 [source: Techniknews.net]