India is an important market to ASUS and judging by the group of top executives on-hand for the ZenFone 6 (known as 6z in India due to trademark issue) launch event, this product is very important to the company. India has been price sensitive and with the praise that the 6z has received, it's unclear how the India consumers will respond. Everyone needs to keep in mind that this isn't a budget phone and it's packing the Snapdragon 855 processor.
Try not to be confused about the phone's naming. India gets the ZenFone 6 but it is called ASUS 6z. If ASUS is able to win their court dispute over the using of "Zen" in their products, we don't know if that means a switch back or if this will forever be the 6z. Perhaps it will be branded the ZenFone 6z if they win the court case.
India ZenFone 6 (ASUS 6z) Prices:
6GB/64GB – ₹31,999
6GB/128GB – ₹34,999
8GB/256GB – ₹39,999
Available to buy on Flipkart. You can buy starting June 26th at 12pm. If India is like every market so far, these early units will sell out! Act fast or you will end up waiting for restocking which may take substantial time. ASUS has to keep enough inventory for other launch countries first, then restocking will occur.
Currently there is only Midnight Black showing up on Flipkart. ASUS has official said that the Twilight Silver manufacturing process takes more time which is why it's not being listed at launch in India. Most likely India will eventually get Twilight Silver but we need to confirm this.
ASUS announced during the launch event that there are a few India specific customizations available. These include:
Call recording – added because Android P doesn't allow
Twin apps – allows user to use different accounts in apps like Facebook
Outdoor Mode – specific to ambient noise in India
Mobile manager – allows users to fully control behaviors of 3rd party apps
FM Radio
Applock via Face and Fingerprint – unlock an app with a fingerprint or face
The ZenFone 6 supports 4G VoLTE network. Both SIMs support 4G VoLTE simultaneously. The Jio SIM will work with the ASUS 6z.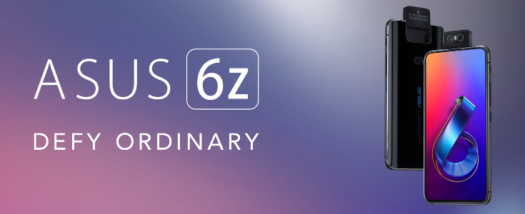 [source: ASUS India]