By the sheer innovation of the flip camera module, it wasn't surprising that when the ZenFone 6 was first tested by DXOMARK that it was the best selfie camera on the market. The overall DXOMARK score back then was impressive for the ZenFone 6. After DXOMARK recently added "Wide" and "Night" modes to their scoring criteria, the ZenFone 6 is rated even higher.
Truthfully it hasn't been a fair fight when it comes to selfie ratings on DXOMARK. ASUS is able to use their ultra-capable rear facing camera for front facing photography so that isn't entirely an even playing field. None the  less, it's clearly the best option for selfie photo lovers who don't want to pay an extraordinary price for their mobile phone.
It has been a while since ASUS last updated their firmware with camera improvements so that will be interesting to monitor in the future. It's also not exactly clear which firmware version DXOMARK was using for their reviews. Given that ASUS was initially very dedicated to monthly improvements to their camera, it's worth noting and considering when it comes to review scores. Not just as it relates to DXOMARK, but any early ZenFone 6 reviews that cover the camera are likely done with early firmware that has not undergone tweaking and improvements so the information may not be accurate or representative of how good the ZenFone 6 camera really is.
So with ASUS scoring a 104, the ZenFone 6 is among the greats. This is quite an achievement for ASUS considering they are a minor mobile phone player at this stage but have kept hard at trying to make their offerings strong in the photography category. It looks like they have achieved their goal, at least for now. The ZenFone 7 should likely inch them closer to the top DXOMARK positions provided ASUS sticks with their flipping camera module.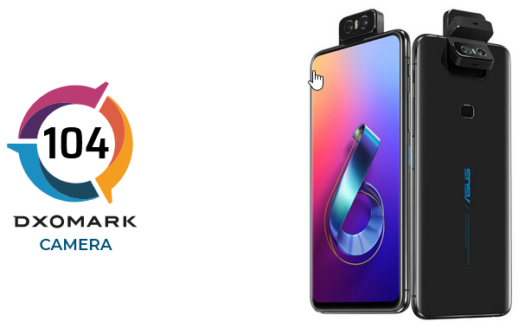 In the 104 score review of the ZenFone 6, here are some of the key aspects that DXOMARK really enjoyed about the camera:
autofocus is fast and accurate in both photo and video
noise control in a variety of lighting conditions
good color rendering in both photo and video
white balance and exposure are accurate in night portraits using flash
video had good stabilization
video captured good details in a variety of conditions
[source: DXOMARK]