Things appeared bleak when ASUS announced cutbacks in their mobile phone division prior to the ZenFone 6 launch. Maybe they simply reduced some of the bulk. From the outside, many saw this downsizing as meaning an eventual exit from the mobile phone business by ASUS. In an odd twist, the ZenFone brand is seeing better than ever coverage and positivity thanks to the qualities of the ZenFone 6. The push to be a legit player in the mobile phone business is still on, and with that, ASUS are now rolling out Android 10 to ZenFone 6 users across the globe.
When ASUS unveiled the ZenFone 6 in Italy back in Spring 2019, they made bold promises when it comes to future Android updates. First, they announced joining the Google Android Beta Program. More importantly though, ASUS guaranteed updates to Android 10 and Android 11 with their ZenFone 6.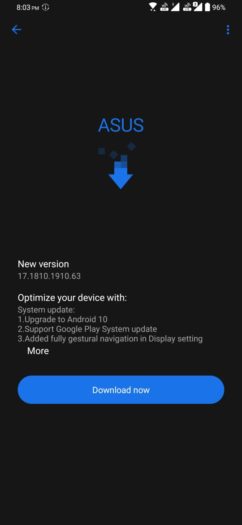 It's one thing to update, but it's the speed in which ASUS updated that is even more impressive. Google rolled out their Pixel updates to Android 10 just two months ago. A few other phones out there have been upgraded to the new Android 10 update, but ASUS has beaten Samsung, LG and Huawei. Considering there are only three other companies faster than ASUS, it's an impressive feat for the ASUS mobile division.
ASUS has been running a beta program so in theory, the global rollout of Android 10 to ZenFone 6 models should be smooth. However, a successful beta run won't guarantee anything. The more users, the more possibilities for bugs and issues to arise. With there being so many different apps and user behavior it would be virtually impossible to cover all possible situations. One thing is for certain, issues and bugs seem to make headlines so everyone will know soon enough if there are problems. Hopefully ASUS is quick to fix issues.
If you're excited about the Android 10 update and aren't sure what the main new features are, we suggest you check out the official Google page for Android 10 here. In case you're wondering about the dessert names for Android, Google no longer does that. From here on in, the updates will be numbered.
We've been tracking ZenFone launches and updates for a number of years now. It's impressive to see such a timely Android update by ASUS considering the lack of updates was a big negative people often complained about when it came to previous ZenFone releases. So most of the big question marks around the ZenFone 6 have been addressed. The supply issue seems resolved. The flip camera module has proven to be reliable and there are not widespread complaints out there. Now ASUS is delivering one of their main promises of updating Android on their ZenFone 6 in a very timely manner. Things are really looking up!
[source: XDA Developers]